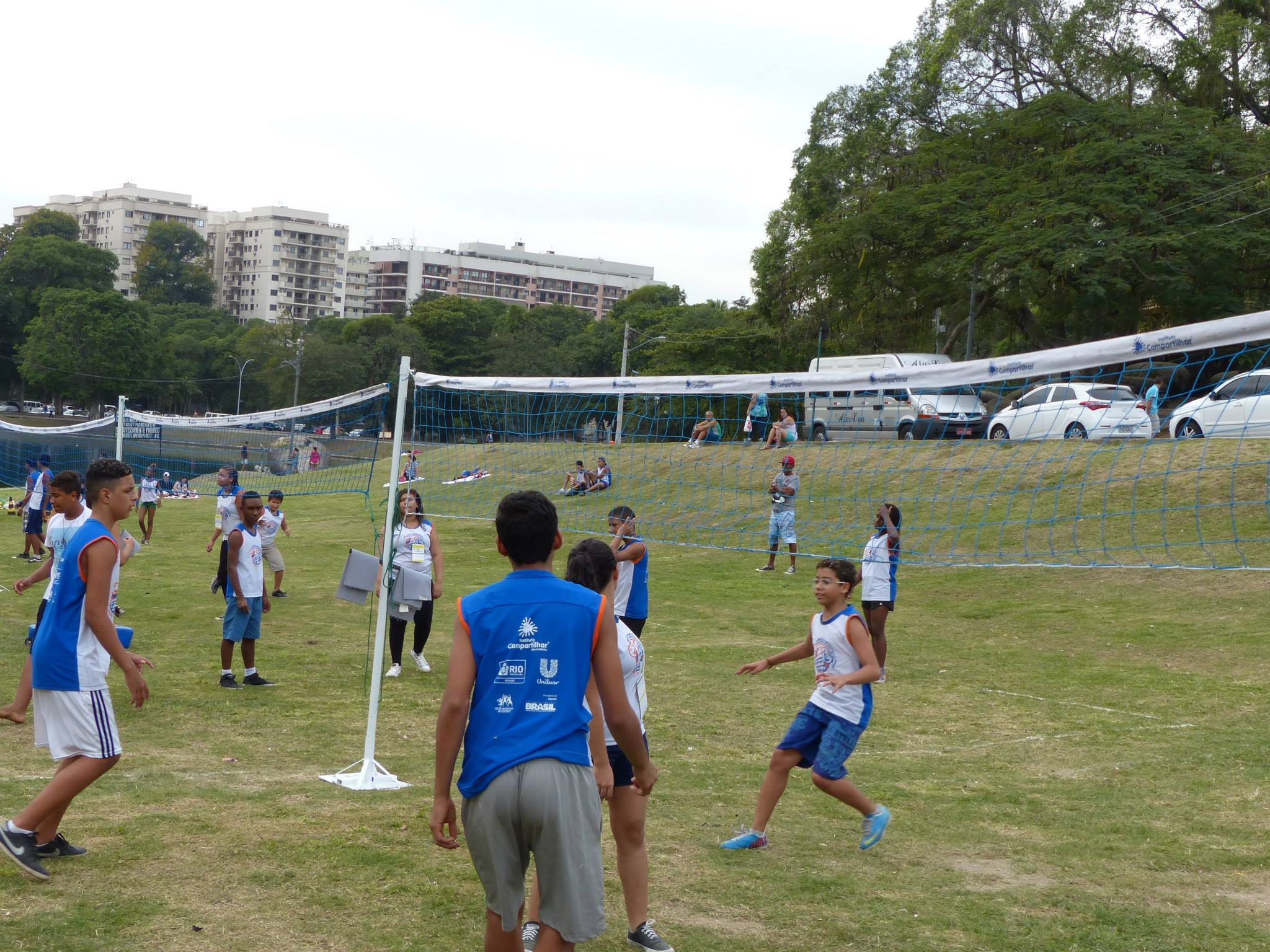 The attractive landscape of Boa Vista, in the north of Rio de Janeiro, hosted the Network Volleyball Festival at the Institute Share Park. The event, open to the public, aimed to provide a pleasant morning for residents and tourists in the region passing by on Saturday, July 18. Of course, although not compulsory, many teachers and students Nuclei Rio / RJ project Volleyball Network were giving the festival and even led some family members to participate in the games. For those who like the sport, to meet with friends and to be in touch with nature, it has a full plate.
Even with local outreach and invitation to enter the various popular verses of minivôlei around the extensive lawn, the locals proved a bit shy. Some even risked a volleyball matches, but the vast majority of the teams was formed by children and adolescents of the project. Teachers of core Coelho Neto, Deodoro, Inhaúma, Penha, Long River, Taquara, Tijuca and Vicar General, besides Vinicius Petrunko project analyst and coordinators Mariana Cochrane and Renata Régis, attended the event and gave strength in the organization.
As the park was great, everything happened: while some people were playing, others picnicked, descended down the hill (as if the grass was a natural slide), walked around the lake or were just talking and watching the games. "It was a very satisfying day, because since leaving school, I and the students were happy to participate in this activity. I loved seeing the students interacting with people from other schools in a harmonious way, "he noted professor of the Municipal School Ceará history, Luiz Paulo de Lima.
For the student of Inhaúma Center, Ygor Santos, 12, the Mini 3 × 3 category, the festival was different: "I was cool getting to know other nuclei in a beautiful place like Quinta. Loved playing on the grass and the place, "he said satisfied. A colleague of the same core, Bianca dos Reis, 13, the Mini 4 × 4 category, revealed pleased: "Saturday was great for me! I had fun too, more than I imagined! I made friends while I was playing. "
During the event, professionals of the Institute Share could disclose the entity's work for people who have gone through the Quinta da Boa Vista. In the city there are 15 centers of the project Volleyball Network, all based in local schools. "The students loved, played and had fun till you drop for real. We look forward to the next. Enjoyed! ", Said Roberto. At the end, there were giveaways of the nuclei and the Institute Share.
Partners Nuclei Rio / RJ: City of Rio de Janeiro and Unilever City Hall. Via Sports Incentive Law: Unilever and Sports Ministry.
Photos: IC Disclosure.